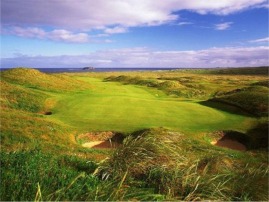 Ballyliffin Golf Club
Ballyliffin is a star in the world of golf. Visitors arrive from around the world to play on the two remarkable links courses. The links courses at Ballyliffin have received the highest accolades from top golfers. Nick Faldo described the course as "the most natural golf links... a hidden gem." Fred Daly described it as "a real Jewel."
more >
Inishowen Peninsula

Inishowen (Inis Eoghain - Owen's Island) takes its name from Owen, son of Niall of the Nine Hostages, who captured St Patrick and brought him to Ireland. Inishowen was part of the great northern kingdom of Ui Neill and was ruled from the royal place at Grianan Aileach.

The Inishowen Peninsula is situated in the North West of the Republic of Ireland. At the top of the peninsula is Ireland's most northerly point, Malin Head. Inishowen possesses such a range of sights and attractions that it is often referred to as 'Ireland in Miniature'. This is the undiscovered Ireland, a world apart, a timeless place - steeped in heritage and antiquity - yet offering the tourist every amenity for the family, angler, golfer, watersport enthusiast or those who want to get away from it all.

Inishowen has many sites of historical and archaeological importance. There are traces of Stone Age man in the flint works in the shoreline at Urris. It has been suggested that these may date back 10,000 years. The Celtic influence is manifest everywhere, from the enigmatic Stone Circle at Bocan, near Culdaff, to the inscribed standing stones at Muff and the dolmens at Iskaheen and Clonmany.

The northern coast of Donegal is believed to be one of the very first places where golf was played in Ireland. Golf has been played in Inishowen for more than 100 years and the standard of clubs and courses is very high.

Gastronomes and gourmets are well catered for, as are those who enjoy the atmosphere and ambience of cosy friendly pubs and hostelries. Inishowen's award winning restaurants daily take the finest and freshest ingredients creating culinary delights both innovative and traditional. Naturally, seafood is a speciality; the day's catch taken fresh from the pier.
Copyright © 2017 RedGateHouse. All rights reserved